Serve Better, Grow Faster
Zeepos' customer which having single or multiple chain business outlets can be do set up only in minutes. They can enjoy Zeepos fantastic features with low operation cost that will turn the business more powerful. With the dynamic reports, will give the deep insights about business performance. Yet, the analytic feature would bring the decision more accurate to achieve certain goals.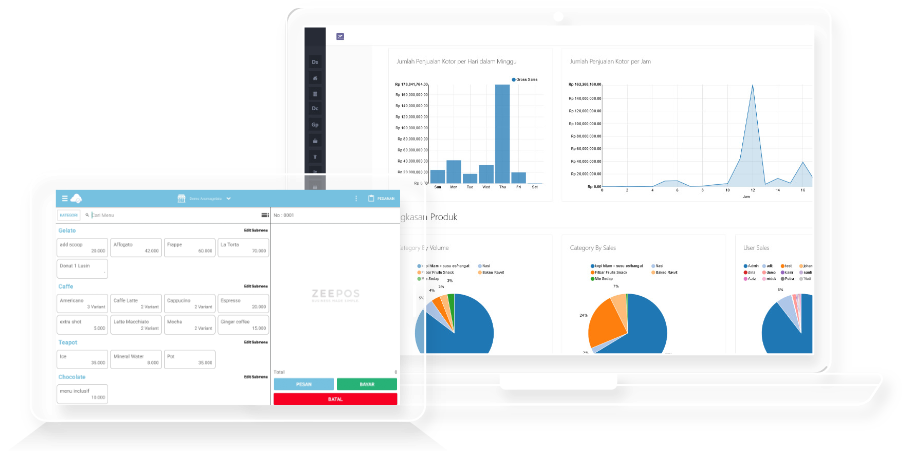 Efficiency on Sales Data Recaps
Today's business places have an increasing preference for more control of their sales to be digitized to make sales data recaps more efficient. To deliver it, Zeepos partnered with CBS provide a completely immersive digital point of sales that was seamlessly accessible from Android device (smartphone and tablet) and integrated with bluetooth printer which available to do transaction when the connection is offline.
All-in-one Application and Offline Transaction
Through our casual design, Zeepos' users can now manage all aspects of their transaction, table layout, promotion, dynamic reports, membership and configuration through their choice of devices. All of the Zeepos' features can be accessed on one application and even when the connection goes offline, it will automatically re-sync the afterwards sales with the former sales, so it can get back to business as usual.
Scope
Design
Implementation
Support
Technologies
Android Apps
Web Back Office
Deliverables
Transaction on POS
Table Layout
Promotion
Dynamic Reports
Membership
Configuration